PERSONAL PROTECTIVE EQUIPMENT
The protection that every deployment squad deserves: our range of prod- ucts and services is rounded off by personal protective equipment (PPE). Manufactured to the same high quality standards and the same zero-error target as our armoured vehicles, in conformity to our certifications for the production and repair of military products (DIN EN ISO 3834, Part 2, DIN 2303 Q2 with special requirements and DIN 2303 Q3 Armouring).
YOUR PARTNER FOR COOPERATION AND DEVELOPMENT
We are an experienced partner to manufacturers and suppliers of person- al protective equipment. From material development to design and testing in our ballistic laboratory right through to manufacturing, our experts are always on hand to offer their expertise.
We can count on decades of experience in the special-protection sector and material development to offer lightweight personal protective equip- ment that provides exceptional safety and maximum comfort. This level of quality requires us to combine various different materials, such as aramid and steel, or we can even work with you to develop entirely new solu- tions that meet your needs. Whether it's individual components, complete products or accessories, our high-performance machinery is also capable of producing large quantities at speed and with the highest precision. Our tactical shields represent just one example from our portfolio.
TACTICAL BALLISTIC SHIELD
Small and handy in tight situations, or large-format for even more protection, classified up to VPAM 6: we produce individual ballistic shields precisely tailored to your mission needs. Many options are possible, including sight window, ergonomic designs, tactical torches, carrying handles and bags, etc.
We have, for example, produced a ballistic shield featuring these properties in cooperation with a German authority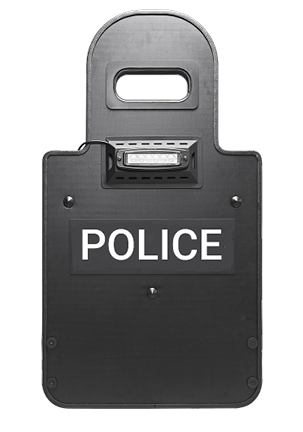 TACTICAL BALLISTIC SHIELD – SPECIMEN SPECIFICATION
EXAMPLE
Commercial-grade polyethylene fibre
Meets requirements in accordance with "Technical Directive – Ballistic protective equipment (status: July 2011)", using ammunition of Test Level 6 as per VPAM APR 2006, Edition 2, status: 30 November 2014
Shield: 1,100mm x 600mm (not flexed)
Sight window: 72mm x 180mm, positioned 170mm below top edge
approx. 14 kg incl. carrying bag
Ballistic resistance up to +70° C is assured
Suitable for right- and left-handed users
Grip system with plastic-foam arm pad and belt system for fixing to elbow
Folding feet for secure positioning of shield
White-light LED with 600 lumen luminous power
Optional carrying bag
This tactical shield supplements the standard protective equipment used by police forces throughout Germany. It is notable for its high ballistic protection and good handling and is thus suitable, in particular, for special deployments in terrorist locations when facing armed opponents. Further uses include ma- jor sporting and other events with the involvement of the police or security ser- vices.
The shield features a ballistically protected sight window of the same protec- tion class as the shield material itself. The special shape of the ballistic shield enables the bearer to carry and to steady a small arm. A second person can also steady a rifle/automatic weapon behind the shield.
Thanks to its folding feet, the ballistic shield can be positioned tilted slightly toward the user and can be laid and stacked in the horizontal position for transportation.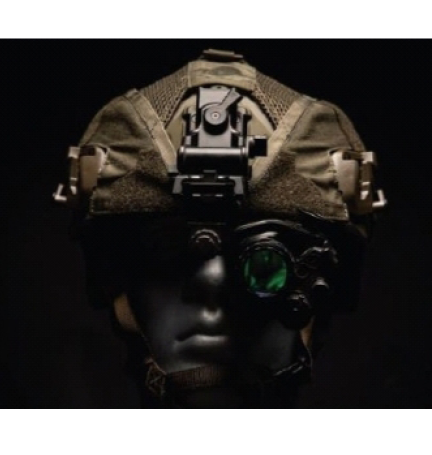 VESTS – PERSONAL PROTECTIVE EQUIPMENT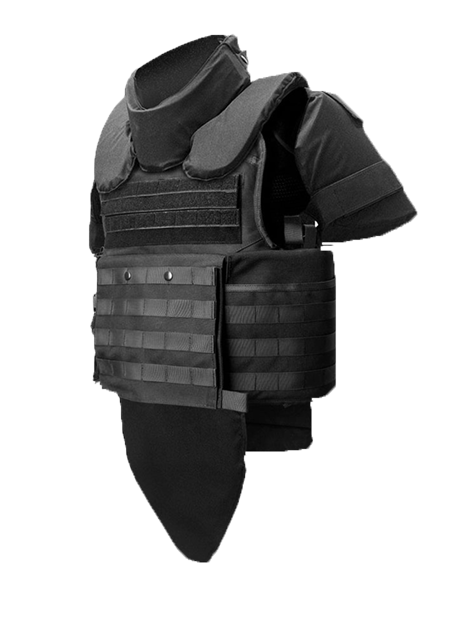 AGC is proud to present our brand new range of high quality, manufactured, ballistic armor for law enforcement, military, and civilian worldwide. Our range of ballistic vests are manufactured from the highest quality materials and manufacturing techniques. We obtain a minimum weight at a high level of protection. Our vests can be worn comfortably covertly under a shirt or jacket, or overtly over clothing. Our bullet-resis- tant vests defend against all threat levels and are manufactured to the highest quality and meet the latest ballistic armor standards. We offer a wide variety of personal pro- tective items including:
FULL RANGE OF BALLISTIC VESTS INCLUDING:
Covert, Overt, Ladies, VIP, tactical, Military, Police and Special Models
• BALLISTIC HARD ARMOR PLATES
• ADVANCED COMBAT HELMETS
• BALLISTIC SHIELDS
• MOUNTED ARMOR SYSTEMS
• DEMINING ARMOR
• BALLISTIC BLANKET
• PROTECTIVE GLOVE
• SECURITY EARPIECES
• BODY ARMOR MOT SERVICE