You can count on us to come up with a bespoke design just for you. It will be exclusively made in line with your specific requirements with
premium quality features down to the last detail. Our specialists in bespoke bodywork can extend, raise, and equip all types of vehicles with special seat combinations, not to mention a wide range of comfort options and entertainment systems. Are you looking to change the door sizes, opening angles, or even come up with an entirely new door configuration? That's all part of our service. And of course we'll also be happy to integrate our innovative protection systems and armoured modules as part of the conversion process. For that feeling of extra space, a special kind of travel experience, and the maximum level of passenger protection.
Our range includes a broad spectrum of vehicles based on the very latest models, from luxurious stretch limousines to sophisticated SUVs
– including armoured models on request. Of course, it goes without say- ing that we adapt all necessary vehicle components to suit changing re- quirements and ensure they are specially aligned for this purpose.
We create vehicles that are second to none and make the perfect companions for our customers. We use only the very best materials, state-of-the-art technology, and precision craftsmanship. Since a wide range of additional and special equipment can be integrated at once while converting the bodywork, your special-purpose vehicle will come to life with the highest quality features on every level.
OUR SERVICES IN THE SPECIAL-PURPOSE VEHICLE MARKET:
• Bodywork changes
• Individual interior
• Exterior design
• Communication technology
• Entertainment solutions
• Safety technology
• And much more besides
SELECTED REFERENCE PROJECTS
We work closely with a whole host of manufacturers in the premium and luxury market segment, and even implement cus- tom vehicle conversions for private individuals and companies. We have listed three examples here for you to browse. Get inspired and bring your very own personalised vehicle to life. No matter what adjustments you'd like to make, we have the right solution.
BENTLEY MULSANNE GRAND LIMOUSINE
Individual and exquisite: This G-Class was extended from the B-pillar by 620 mm, luxuriously upgraded and equipped with a carbon fibre roof according to the customer's requirements.
Original body shape of the G-Class
Extension of the rear doors (+ 240mm)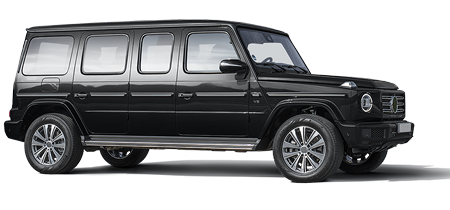 Extension with second B-pillar (+ 620mm)