BASE VEHICLE
TOYOTA LAND CRUISER 76
BALLISTIC PROTECTION CLASS
VPAM BRV 2009 VR7
BLAST PROTECTION CLASS
VPAM ERV2010
ARMOURED TOYOTA LAND CRUISER 76
With its robust design and wide range of upgrade options, the TLC is a real all-round-er that remains safe and reliable even during extreme driving manoeuvres with maximum loads. The armoured TLC is based on the Toyota Land Cruiser 76 and has been certified by the "Beschussamt Mellrichstadt" according to the current VPAM guidelines BRV2009 and ERV2010.
This specially protected vehicle has also been tested and successfully accredited by the German TÜV under severe conditions in various scenarios.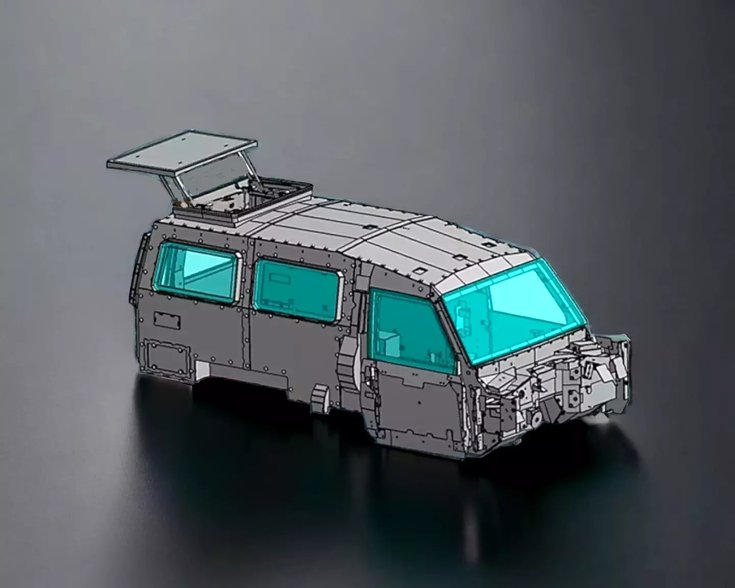 BALLISTIC SPECIFICATION
Ballistic protection class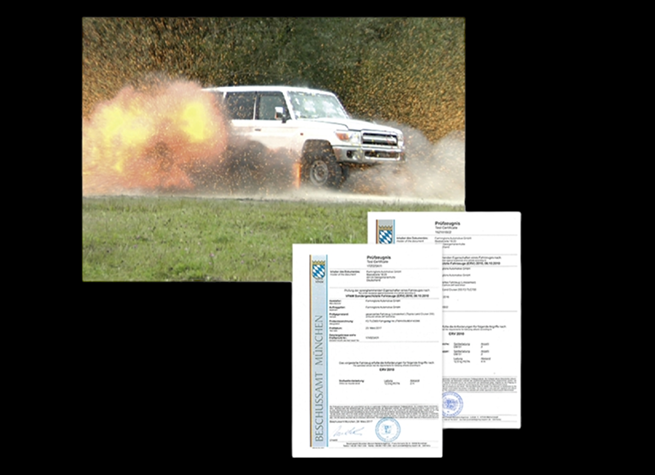 Protection class VPAM ERV2010 / STANAG 4569
Our armored vehicles are certified, among others, in compliance with VPAM ERV2010 and STANAG 4569. The testing procedures include the blasting of differ- ent types of hand grenades (DM51, HG85) on the vehicle roof and under the vehi- cle. In compliance with STANAG 4569 AEP-55 we also test protection against land mines of type AP DM31 and similar, and against 6-kg land mines. On request, we simulate the effects of a TNT or PETN car bomb blasting on the lateral sides of a vehicle. All tests are performed by state-approved proof houses (Beschussamt) or IABG, a German analysis and testing company.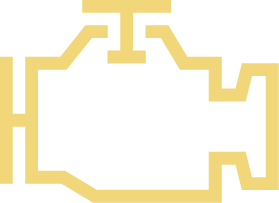 • 4,461 – 4,164 – 3,956
• 8 & 6 cylinders
• 205 – 128 – 228 HP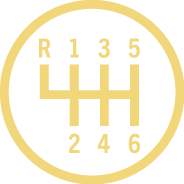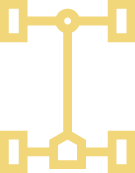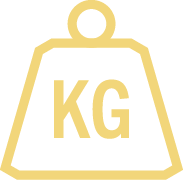 • 5,300 kg
• Load capacity
   Up to 1,000 kg
Our bullet-proof vehicles are equipped as standard with safety equipment that provides passenger
protection in dangerous situations. This comprises the following components:
CHASSIS/SUSPENSION AND BRAKES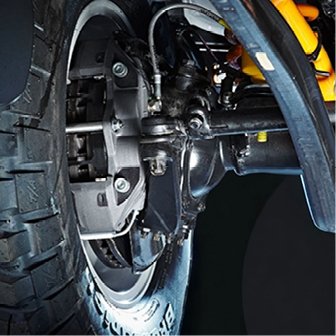 The armoured Toyota Land Cruiser 76 has been tested by the Ger- man TÜV under severe conditions in various scenarios and success- fully certified in accordance with international standards ISO 3888-1 and ISO 3888-2. The test scenarios included a single and double lane change, a sharp evasive manoeuvre, and a gyroscopic movement at different speeds with different actuating forces.
Our engineers have completely redesigned and developed the chas- sis and suspension components, and adapted them to the increased vehicle weight to ensure optimum handling in every situation. Even the brake components have been replaced with more powerful alterna- tives.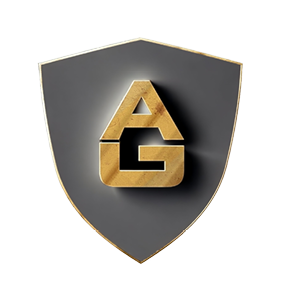 ARMOURED MISSION VEHICLE / ARMOURED UN VEHICLE
The TLC can be individually adapted with numerous additional features to suit a whole host of missions and applications. It makes for an ideal mission vehicle, for example, and is used by various aid organisations around the world.
ARMOURED PATROL VEHICLE
The TLC can be used as an armoured patrol vehicle complete with a whole host of radio and intercom equipment.